VENUS is the female planet and causative inter a lia of beauty, pleasure, entertainment, fashion, luxury and cosmetics. Hence, the famous star heroines in film and television industries will have auspicious placement of Venus in their natal charts.
Likewise Rahu is called the planet of illusion (Maya) and make believe feeling. Also Rahu is considered as ultramodern. Hence, Rahu also plays an important role for people who have connections with film industry and glamour world. Hence, Well placed Venus and Rahu with favourable aspects with other planets produce top heroines in the celluloid world.
The glitzy world of cinema has become very attractive nowadays. Today, many youngsters are aspiring to become actors and actresses to get fame and popularity. Really, there is an unlimited talent in this world. But everybody is not lucky enough to achieve great success in their life and become big stars.
Particularly, for an aspirant to shine as a top heroin in film industry what planetary position need to exist in her natal chart? For Raj yoga in films, astrologers analyze periods, planetary relationships, conjunctions and aspects in the natal chart.
1.Venus-Rahu : Strong Venus makes a girl beautiful. But, it is only Rahu who glitters her on Silver Screen. Without the grace of the above two planets no girl can aspire to reach the top in the cine and glamour world.
These two planets joined together (Aiswarya Rai, Kareena Kapoor, Priyanka Chopra, placed in angular relation (Madhuri Dixit), placed in each others' stars (Meena Kumari), receiving beneficial aspects from auspicious planets (Sridevi, Hemamalini, Marilyn Monroe) made the natives as successful heroines.
2. Important Houses:
The Ascendant/Ascendant lord should be strong in the birth-chart to become a film star. The Ascendant in the birth-chart provides an influential personality, and people will remember the person for a long time, which is the most important quality for people aspiring to make a career in the field of acting.
3. Thumb Rule: The person will earn the livelihood in the field of acting if the fifth house/lord is strong and forms a relationship with the tenth house/lord in the birth-chart. The fifth house is the house of entertainment and cinema and the tenth house is the house of occupation.
The interests of a person are recognized by the third house. Artistic and creative skills within a person come from this house. A person will be a good actor if the third house forms a relationship with the fifth house or its lord in his birth chart.
If the Ascendant/Ascendant lord is in relationship with the third house, the person will be very good in acting. He will get fame through media and communication, which are the equipments of the third house.
4. Important Planets:
A person should have a strong will power to become an actor and Moon is the causative of this quality. Venus is a planet associated with artistic skills. Both the planets placed in the fifth house in the birth-chart will create the yoga to make a career in the field of acting. When Mercury becomes the causative of voice and forms a relationship with Moon and Venus, then the actor will have good dialogue delivery.
5. Directions:
If the periods of planets placed in the fifth, third and tenth house match well the person will achieve success. Of course age also matters most since shining as a top heroin for a long time in the film industry is exceptionally rate. Talent and strong fortune are the key assets in this field.
6. Transit:
Transit has its own importance. The periods and yogas sometimes are not able to give their results due to the absence of transit in the planet. Hence, transit of planets helps to fulfill the dreams of the native.
7. Other Yogas:
The person will get good success in the field of modeling, movies and theater if there is a placement of Venus in the tenth house from the strongest of the birth Ascendant/ Moon Ascendant/ Sun Ascendant, or if any strong planet is making a Yoga in the Navamsh Kundali. Inauspicious influence of Venus may reduce the beauty of the person.
If Mars and Jupiter are placed in the fifth house and Venus, which is the causative of entertainment, is in the second house or forms a relationship, with it, then the person will achieve success in the field of acting. Attraction, indulgence and passion luxurious amenities, expensive cars, other vehicles and decorative things. are the main qualities of Venus as per KP Astrology.
The creative skills or the creativity to present something differently comes within the person through Venus. Social services and nursing others are also influenced by Venus. Person who work at the reception counters of hotels and other business foundations have the influence of Venus in their birth chart.
Chart: 1- MEENAKUMARI – Born on August 1st, 1932 at 23h-55m at 18N 58 72E 50 With 11y 8m 22d. of Saturn Dasa at birth.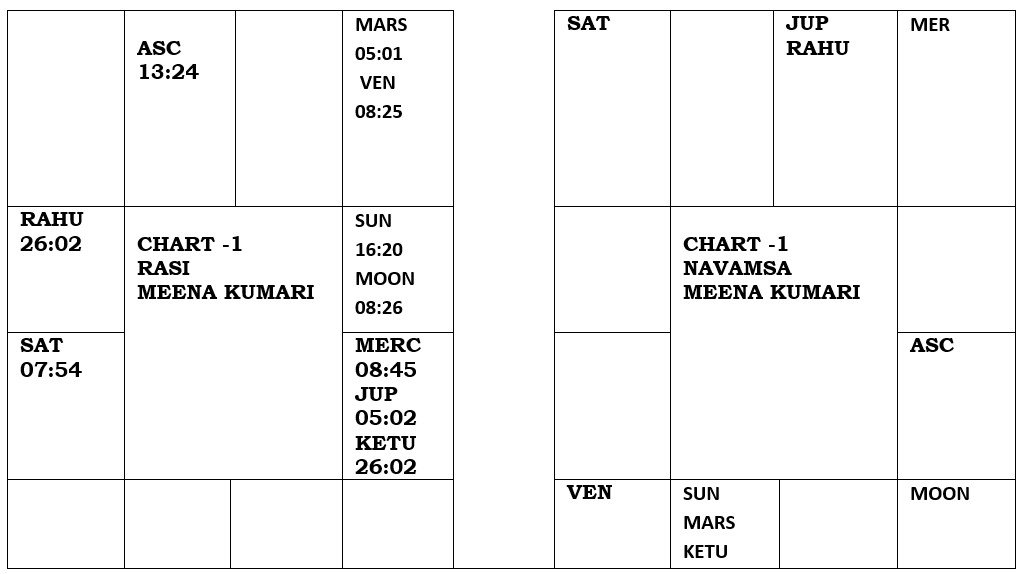 Mahjabeen Bano (August 1, 1932 – March 31, 1972), Chart-1 more commonly known as Meena Kumari, was a prominent Indian film actress. She is traditionally known for perfecting the role of the tragedienne in films, with the anguish-laden voice never more than a sob from abject despair of an unblemished beauty.
In a career spanning three decades, she chiseled the contours of two role models and created some kind of an ideal woman as mother wife in the mind of the viewer.
Fifth house Lord Sun is aspecting the Tenth house lord Saturn in her Chart. This elementary rule of enry in to tinsel world is satisfied in this chart. Ascendant is Aries and ascendant lord Mars is stationed in own Star (Mrigasira) and ascendant is being aspected by auspicious planet Jupiter. Venus placed within a distance of 16 ½ degrees with Moon and Rasi placedwell in Navamsa gave her mesmerizing beauty.
Fourth lord placed in fourth, and Tenth lord in tenth gave her Raja Yoga. Moon placed in Saturn's star and is having mutual aspect with him. Born in Saturn Dasa and since Saturn was placed in Own house (Tenth) made her tragedy heroine in the Celluloid. Her entire Cine career was covered in Mercury Dasa. Mercury as third lord placed in fifth and joined with auspicious Jupiter ensured good acting career throughout his dasa and ended her life in Ketu Dasa abruptly (Mercury was placed in Ketu Star).
Mahjabeen was renamed Baby Meena and her first film as a child artiste was "Farzand-e-Watan" or "Leatherface" (1939). But Meena came into lime-light with the hit movie "Baiju Bawra" (1952). For this film she adopted the name Meena Kumari. Her performance fetched her the inaugural Filmfare Best Actress Award in 1953. Her charisma increased with "Parineeta" (1953), "Daera" (1953), "Ek Hi Raasta" (1956), "Sharda" (1957) and "Dil Apna Aur Preet Parayi" (1960).
In the year 1962 , Meena Kumari made history by garnering all three Best Actress nominations for the Filmfare Award- for "Aarti" (1962), "Main Chup Rahoongi" (1962), and "Sahib Bibi Aur Ghulam" (1962)- for which she won the award. She is ever remembered for her scintillating performance in "Pakeezah".
Chart: 2 SRIDEVI : Born on August 13, 1963 at 05h-30m at 13N 5 80E 18 With 1y 10m 4d. of Sun Dasa at birth.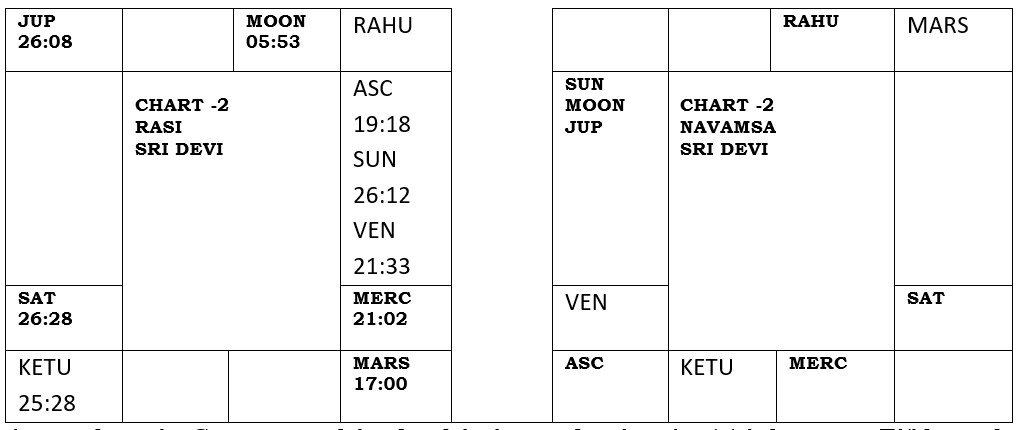 Ascendant is Cancer and its lord is in exaltation in 11th house. Fifth and tenth houses lord Mars is aspecting the tenth house. This satisfies the astro rule of connection with film industry. Sridevi made her entry in to film industry during Moon Dasa itself as a child artiste. The strong impact of Moon made her 'baby faced hereoine'. Also there is less than 30 degrees distance between Rahu and Venus. Venus is receiving the beneficial aspects of Jupiter and Saturn. Also tenth house lord Mars is placed in third(Vikrama sthana) in Moon's star (hastha) resulting in start of earnings from childhood itself.
She started winning the laurels from the very kick-start of her filming career. She bagged the Kerala State Film Award for the Best Child Artist "Poombatta" (1970) during Moon Dasa. Her success graph started to rise phenomenally in Rahu Dasa. From 1990 onwards. She won 3 Filmfare Awards for Best Actress for 3 consecutive years for "Chaalbaaz" (1990), "Kshana Kshanam" (1991), "Lamhe" (1992) and best actress award for "Khuda Gawaah" (1993), "Gumrah" (1994), "Laadla" (1995), and "Judaai" (1997).
Tamil Nadu government honored her with the Kalaimamani Award in 1996 and Andhra Pradesh government gave her the Kalasaraswathi Award in 1997.
Chart: 3 MADHURI DIXIT: Born on September 26, 1974 at 07h-34m at 13N 5 80E 18 With 0y 1m 26d. of Sun Dasa at birth.

Madhuri Dixit born in Sun Dasa in the ascendant Libra. Lord of ascendant Venus placed in eleventh (labha) and receiving the beneficial aspect of Jupiter. Tenth house is being aspected by Moon (stationed in fifth) which is his own house. Hence, thumb rule for entry into film world satisfied. Rahu is palced in Dhana sthana from ascendant and in angular relation with Venus. Her success graph rose by leaps and bounds during Rahu Dasa with the hits like Dil (1990), Saajan (1991), Beta (1992), Khalnayak (1993), Hum Aapke Hain Koun..! (1994).
After a relatively low phase, she reinvented herself with the romance Dil To Pagal Hai (1997) and subsequently received critical acclaim for her work in films like Mrityudand (1997), Pukar (2000), Lajja (2001) and Devdas (2002). In 2008, she was awarded the Padma Shri, All these were happened in her Rahu Dasa. After the completion of Rahu Dasa she preferred to stay out from cine world.
Chart: 4 AISWARYA RAI: Born on November 1, 1973 at 4h-05m at 12N 52 74E 53 With 10y 7m 7d. of Sun Dasa at birth.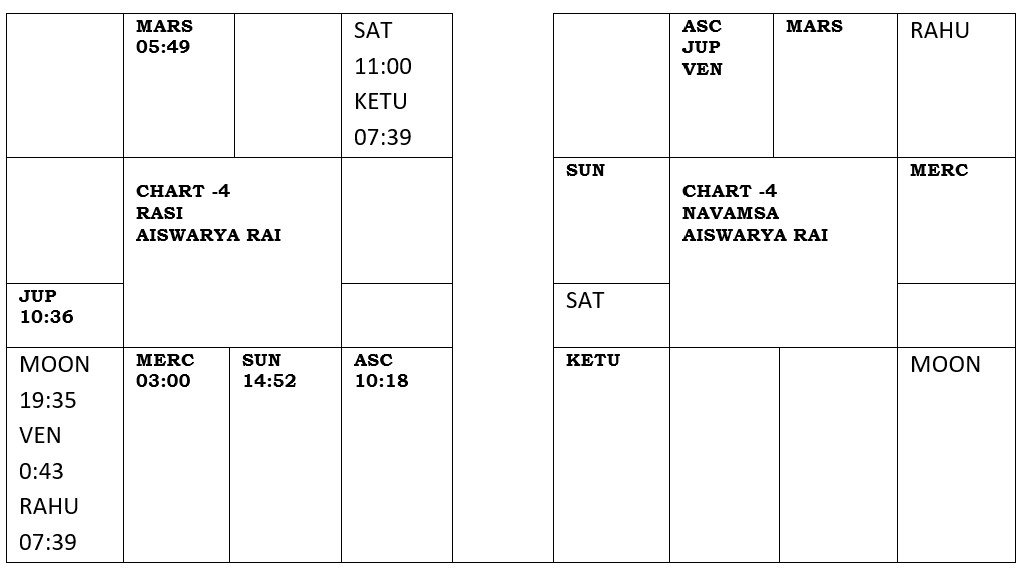 Aishwarya Rai with ascendant Virgo and Venus and Rahu placed in fourth house along with Moon and being aspected by beneficial Sun. Interestingly Sun is placed in Svathi Star belonging to Rahu. She worked as a model before starting her acting career, and ultimately won the Miss India and Miss World pageant titles in 1994 in Moon Dasa. She has starred in films in various languages including Hindi, English, Tamil, and Bengali. Rai made her acting debut with Mani Ratnam's Tamil film Iruvar in 1997 and had her first commercial success with Jeans.
Afflicted with severe Kuja Dosha this native's acting career also received set backs during the Mars Dasa upto 2006. With the start-up of Rahu Dasa her career received a big push with the blockbuster action thriller Dhoom 2 in 2006 and subsequently featured in many hit films such as Robo (Enthiran) in 2010
Chart: 5 KATRINA KAIF: Born on July 16, 1984 at 04h-05m at 56N 20 05W 40 With 10y 1m 18d of Rahu Dasa at birth.
Katrina Kaif original name Katrina Turquotte is a British born Indian actress and former model. who appeared in Hindi, Telugu and Malayalam films.
Born in Scorpio ascendant and Rahu Dasa Kaif made her acting debut in 2003 in Jupiter Dasa. In the same Jupiter Dasa 2007, she earned commercial success with Namastey London and later earned public recognition for playing glamorous roles.
Ascendant Lord Mars is placed in the star of Jupiter and tenth lord Sun also placed in Jupiter who is posited in own house(second house) in Dhana Sthana. In the chart of Kaif Rahu was placed in eleventh house to Venus which gave her a lucrative career.
Chart: 6 PRIYANKA CHOPRA Born on July 18, 1982 at 12h-30m at 22N 50 86E 10 With 3y 1m 16d. of Moon Dasa at birth.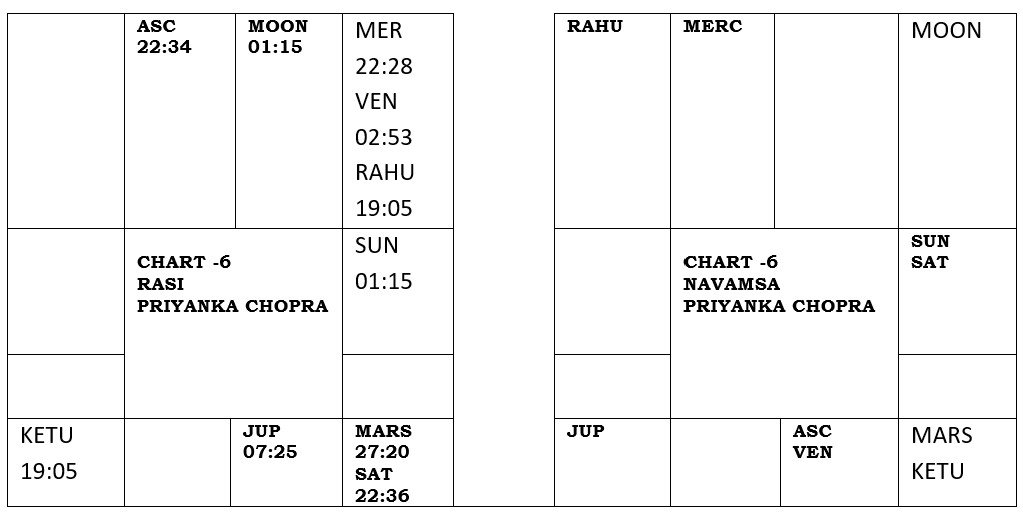 Priyanka Chopra a film actress, singer and songwriter. She won Miss India and Miss World in 2000 before beginning her acting career. Her ascendant is Aries and its lord Mars was placed in sixth but in own Star (Chitra). Venus and Rahu are placed in third house and receiving the beneficial aspect of Jupiter and Saturn. Exalted Moon in Taurus in own Star Rohini is very much favorable to her. Chopra made her acting debut in 2002 in her Rahu Dasa with the Tamil film Thamizhan. She has also performed in television and stage shows, has written columns in India's national newspapers, and is active in charity work. She is regarded as one of most popular and attractive celebrities in India. She too received big push to her acting career during Rahu dasa.
Chart: 7 KAREENA KAPOOR: Born on September 21, 1980 at 6h-30m at 18N 58 72E 50 With 0y 11m 9d. of Moon Dasa at birth.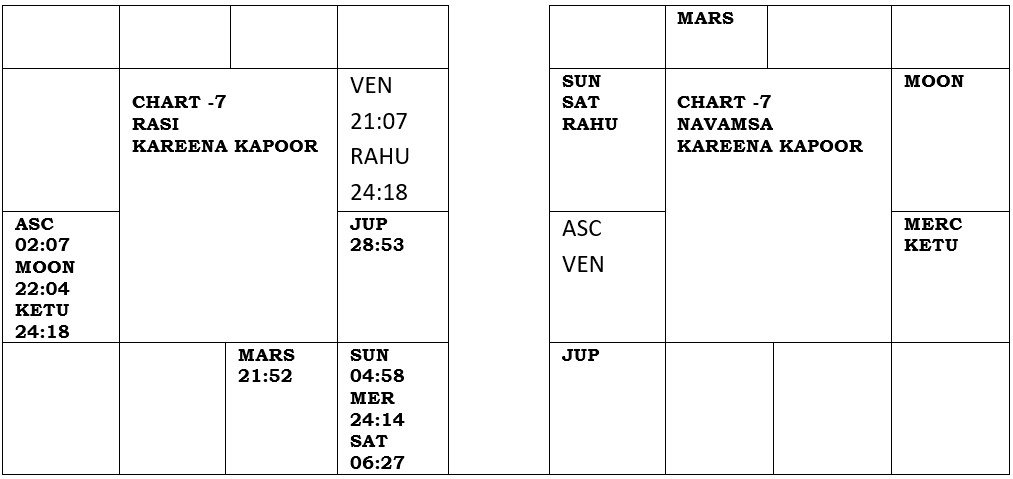 Kareena Kapoor wanted to be a lawyer and  took  admission. . But having  born in a Kapoor's family  she couldn't resist her acting urge.  She moved on to Bollywood leaving the law course.
Her ascendant is Capricorn and ascendant lord is placed in 9th in Sun's Star.   Venus and Rahu are placed in seventh and aspecting the ascendant. She  made  her acting debut in the year  2000  with a war drama in Refugee while she was running Rahu Dasa.  Kapoor's early years in the film industry were successful, including a Filmfare nomination for Asoka in 2001 and the melodrama Kabhi Khushi Kabhie Gham. was released which was her biggest commercial success. All these successes were during the period of her Rahu Dasa only which ran upto 2005.  So Rahu stabilized her career in films. Later, She also played the lead female role in the romantic comedy Jab We Met  in 2007, for which she received the Filmfare Award for Best Actress and for  3 Idiots  in 2009.
Chart: 8 Marilyn Monroe: Born on June 1, at 3h 32m at 8h 30m at 34 N 03 118W 14 with a balance of 5y 5m 5d of Mars Dasa at birth.

In Monroe's Navamsa chart lord of fifth Saturn and Lord of tenth Merc joined together in Nineth which paved the way for her entry into Hollywood. She is having Amala Yoga (Benefic in the 10th) , Sasa Yoga(
Saturn in quadrant) and Mahabhagya yoga (Ascendant, Sun and Moon are in even signs). Moon in the seventh house to ascendant gave attractive body. From ascendant fifth and tenth lord Mars joined with auspicious planet Jupiter. From Moon ascendant lord of fifth and tenth Venus is placed in 3rd (House of success). Monroe was acclaimed for her performance in "Gentlemen Prefer Blondes" (1952), How to marry a millionaire (1953), The Seven year itch (1955). She received Golden Globe award for her role in "Some like it hot".
Chart: 9HEMAMALINI: Born on October 16, 1948 at 3h 32m at 10N 21 79E 25 with a balance of 16y 6m 1d of Saturn Dasa at birth.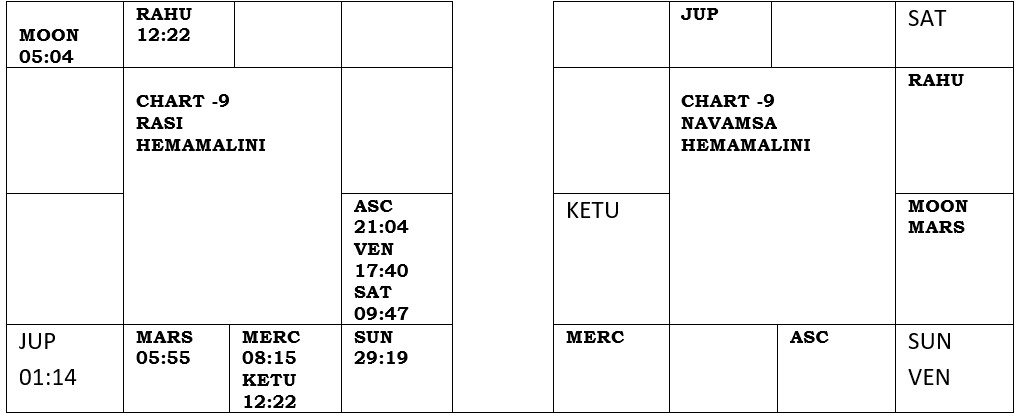 Hema Malini is an actress, director, producer, dancer and choreographer. Her ascendant is Leo. Ascendant lord Sun is Dhana Sthana in Mars Star.From Moon sign lord of fifth Moon and lord of tenth Jupiter both placed in signs of Jupiter made the relation of fifth and tenth houses and paved the way to Hemamalini into tinsel world. Venus is receiving the beneficial aspect of Jupiter and Rahu is getting the beneficial aspect of Mercury. Mercury is placed in the Star of Rahu and gives Rahu's results. In her Chart Gajakesari Yoga exists. She made her acting debut in Sapno Ka Saudagar in 1968 in Mercury Dasa Malini is regarded as one of the greatest and most influential actresses in the history of Indian Cinema. She has starred in a film named as "Dream Girl" in 1977 and from then it has become her title.
In 2000, she was presented with the Filmfare Lifetime Achievement Award. While she was running Venus Dasa. In the same Dasa , she was honoured with Padma Shri, She also served as the Chairperson of the National Film Development Corporation. The Gajakesari Yoga in her chart enabled her to serve as Member of Parliament during 2003 to 2009 in Venus Dasa.
Learn Astrology: Join Our Upcoming Astrology Classes — Click Here 
Learn Astrology: Join Our Recorded Astrology Classes — Click Here