Case Study Problem of Service and Income
Mr N Parmar
Birth Dt. 20-03-1976
Birth Time 10-35
Birth Place Ahmedabad
| | |
| --- | --- |
| Planets | Sign – Degree-Minutes-Seconds |
| Lagna | 01-13-03-57 |
| Sun | 11-06-11-35 |
| Moon | 07-03-12-57 |
| Mars | 02-07-12-11 |
| Mercury | 10-24-29-51 |
| Jupiter | 00-05-03-29 |
| Venus | 10-12-50-56 |
| Saturn | 03-02-32-56 |
| Rahu | 06-21-32-24 |
| Harsh | 06-12-59-02 |
| Nep | 07-20-26-19 |
| Plu | 05-17-7-4 |
In Chalit Mercury is in 11th House.
In Jhora which we use the planet Mercury is not changing in Chalit.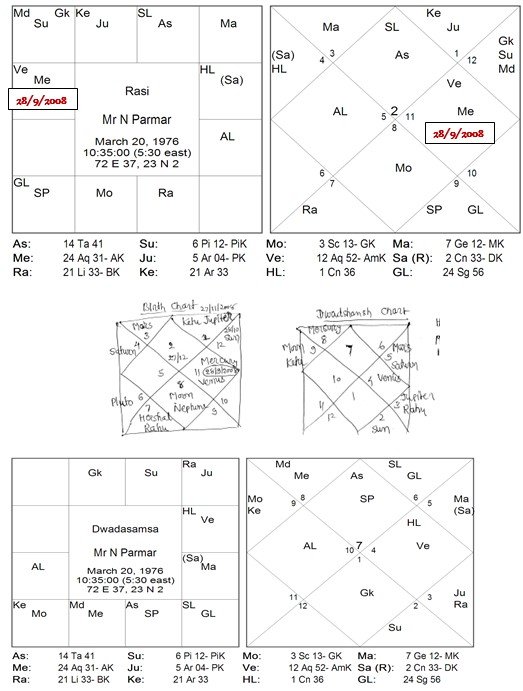 As per earlier calculation method year of 1th house started from 28/09/2008
Lord of 1st and 6th house, Venus is in the 10th house of birth chart. Venus is the badhaka of the 10th house
Lord of 2nd & 5th house, Mercury is in the 10th 2nd house is the house of family, money etc. In Chalit it enters in 11th house which is the badhaka of 11th house.
Mr N Parmar is in Australia. I advised him not to leave the service because badhaka of 10th house, Venus is in 10th During telephonic talk with his father, (Who was the Ex. Director of Technical Education, Gujarat) on 05/02/2009, he told that Mr N Parmar has already left the service on 15/12/2008 and lost regular income.
Month of 12th house started from 27/11/2008 and ended to 27/12/2008. Lord of 12th house is Mars and it is in the 2nd So Mr N Parmar lost is income during this period in Australia. 12th house shows foreign country.
End of 10th house will be on 23/09/2009 so Mr N Parmar has to suffer due to service problem & regular income till 23/09/2009.
Case Study: Problem of Partnership
Mr I patel
Birth Date : 20-12-1969
Birth Place : Unja
Birth Time : 08-00 AM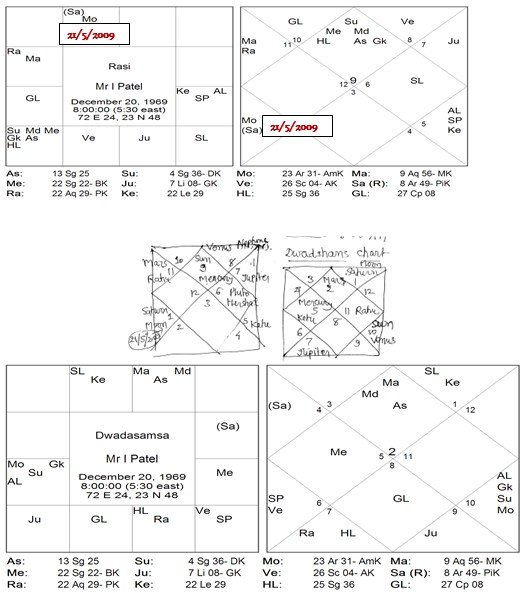 As per calculation year of 5th house will start from 21/05/2009
Mr I Patel started the chemical industry near about 2000 in partnership.
One person of Shri I Patel from purchase of materials to sell of products
His partner has applied for USA visa, he got the visa and he told Mr Patel that he will go to USA after 15 days. He kept partnership continued since last three years. He is in USA
In India Mr Patel himself continued the industry. He sent the profit of his partnership every year. But his partner never showed his income in America.
In birth char, 7th house is Badhaka Hose. Lord of 7th and 10th house mercury is in the 1st house, which is badhaka of the 1st So Mr Patel worked as one man show in partnership. He developed the business but he is not benefited. His partner benefited without doing any work.
So I advised to Mr Patel to break the partnership by either taking the business from the partner or visa versa. But partner did not give any response. So Mr Patel stopped the industry since last 10 months.
See, in birth chart lord of 9th house, Sun is in the first house. 9th house shows father – fortune. Lord of 7th and 10th house mercury is also in the first house and working in 9th
So, Mr Patel lost his father when he was 10 year old and due to partnership he lost the fortune.
Currently he is doing the trading business in chemicals
Case Study: Health Problem
Mrs D
Birth Date : 21-01-1961
Birth Time : 09-00 AM
Birth Place : Samou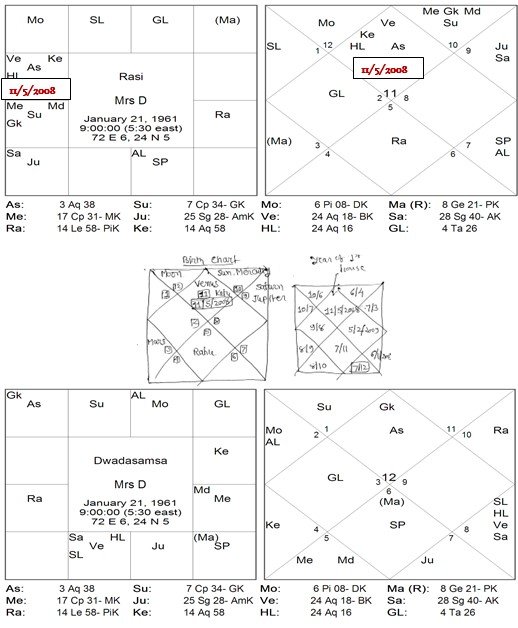 Year of 1st house start from 11/05/2008
Lord of 4th and 5th house, Venus is in the 1st 9th house is the Badhaka house of this birth chart
Venus is Badhak of the 1st house
Month of 8th house start from 07-12-2008. Lord of 8th house is in the 12th 12th house shows the hospital expenses etc. So she admitted to hospital on 31/12/2008 because of decreasing of sodium salt in the blood.
Month of 9th house started from 06/01/2009 lord of 9th Venus is the badhaka of 1st house. 1st house shows health, nature and body etc.
As 9th house is the badhaka of this birth chart, she was again admitted to hospital on 27/01/2009 because of white cells in the blood decreased.
The end of 1st house will be on 06/05/2009 so she is advised to take care of health till 06/05/2009.
Case Study: Problem of Health and Partnership
Mr B Patel
Birth Date : 27/28-02-1962
Time : 01 : 30 AM
Place : Vadodara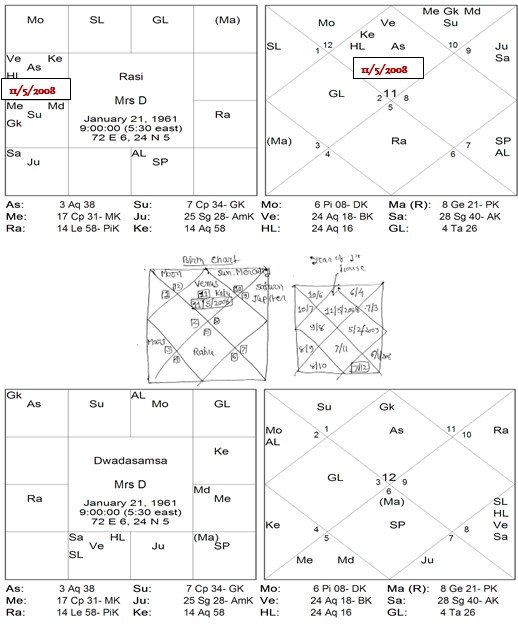 Year of 12th house startle from 23/06/2008
12th house shows the expenses, hospital, jail etc. 7th house shows partnership, continuation of work etc.
Lord of 12th & 7th house Venus is in the 4th Venus is the Badhaka planet of 4th house. 4th house shows the heart, mother etc.
Mr Patel has been admitted to hospital after 23/06/2008. Because of heart blood and blood pressure problems. He was admitted to hospital 3 ~ 4 times.
He is doing construction business and financing in partnership. His partner has been in jail for 3~4 days and came out on bail
Thus after starting of year of 12th house from 23/06/2008 Mr Patel is worried about his own health, business problem and partner's court matter.
These may continue to 18/06/2009 which is end of 12th house period.
Learn Astrology: Join Our Upcoming Astrology Classes — Click Here 
Learn Astrology: Join Our Recorded Astrology Classes — Click Here