PREDICTING KARMA THROUGH NAADI ASTROLOGY
Bhaskar Chakraborty
Karma literally means "deed" or the act or the actions. Karma has a wider range of  meaning. Even what we are thinking can be termed as a karma. It is the idea which later on transforms into the action. It is finely tuned in the Gita. As per the verse of Lord Krishna. This single shloka is capable to revel. However for the purpose of this article we will be limited to the professional aspects of the individual judging profession or livelihood of any individual is no doubt a tough subject. But it is the duty of an Astrologer to guide the person in a right direction upon which one can make the  life happy and purposeful. Indian Astrology is divided mainly into 3 branches, i.e. (1) the Parasharian theory or the traditional one, (2) the Jaimini system and (3) the Naadi system of prognostication to pinpoint the future events. In Naadi Astrology the Saturn, the owner of the 10th house of the natural zodiac i.e., the house of profession is termed as Karmakaraka. This is mainly used in Bhrigu nadi and Nandi nadi,sage Satyacharya also termed it as Karmakaraka. So, Saturn is the primary indicator of our karma. Sage Parashara termed it as a servant; the person who serves. This is also very very meaningful. In order to assess the nature of profession we have to follow the under-mentioned steps.
In which sign Saturn is posited. Each and every sign has its own Karakatwa. Like Mesha / aries is fiery, technical, head strong person, etc.
The planet or planets aspecting Saturn or conjoined with the Saturn.
The nature of the rear sign /2nd sign where Saturn is posited.
The planet or planets posited in the 2nd sign of Saturn or aspecting the said sign.
In addition to the 7th aspect in naadi we use to pay much attention to the trine house / trinal aspect also (5th & 9th).
Here, with example charts trying to clarify the theory. Though in my previous article I have given enough charts and discussed it in detail.
Ex-1 :
Let's take the case of Mr. Mithun chakraborty, the megastar of Bollywood and Bengal film industry.
Date of Birth : June 16th 1950
T/B : 5:40 Hrs. I.S.T.
P/B : Calcutta, 88E20, 22N30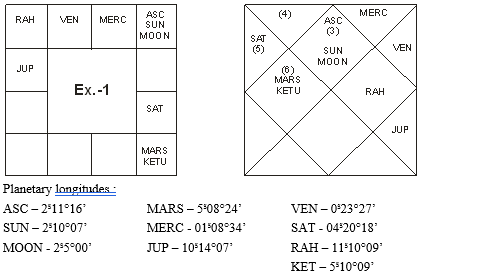 He is the only male actor who received National award 3 times and continuing the same graph in commercial films like 'Disco Dancer', 'Dance Dance', etc. Now, look at the Karakatwa of planets. The Venus is the Karaka of acting, dancing, singing etc. So, it is the Venus which has gifted him all those qualities. It will not be out of place to mention here that he has the ability to sing the song and has done this in the past.
Venus is posited in Mesha Rasi / Aries sign and the Saturn is in Leo making trinal relationship. So, indicating the Karma of Venus which clearly shows artistic abilities of a person. The Jupiter is in the 7th to Saturn. Jupiter though shows service, he has not entered himself in the service because firstly in Naadi we pay much attention to the trinal aspects. Secondly, Venus is stronger than the Jupiter here as it is in his own star and interestingly Saturn in also posited in the star of Venus (Poorva Phalguni). 3rdly, Saturn – Jupiter same 7th sometimes represent contractual work. Actually he went to Mumbai to get a job there but something different was in store for him. We know he is a master in Marshal Art. Mars,, the planet of energy shows this. Mars is placed in the 2nd house from the Saturn, given him the qualities. Mark here, mars is posited in Kanya, the Rasi dispositor is Mercury and Mercury is aspecting the house from Taurus (5th & 9th). Kanya is a business oriented sign as the planet Mercury represents this. Mars is also for machineries. Mr. Chakraborty started a detergent powder manufacturing unit and a newspaper in Bengali language. All those actions are signified by the placement of Mars in the 2nd house Kanya from Saturn.
Ex.- 2 : Mr. Aseem Bansal
D.O.B. : October 26th 1982
T.O.B. : 10:14 a.m. I.S.T.
At Lucknow (U.P.), 26N50, 80E54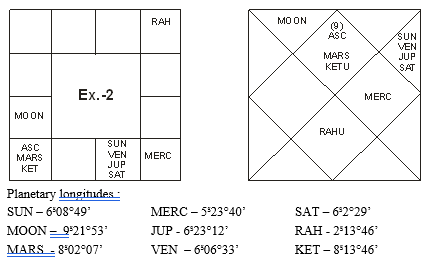 This native is working in a Japan based Insurance company and posted in Delhi, handling the branch as management trainee. He is a certified financial planner, has done M.B.A. in marketing. Now, have a look on his chart, Saturn is in the house of Venus, the planet of finance, treasury, indicating financial institution etc. Venus is also posited there along with Jupiter and Sun. Jupiter indicates service. Sun is for authoritative post. He is handling the whole branch. Exaltated Rahu is aspecting this whole combination of 4 planets. Rahu is a planet which indicates foreign, foreign trade, foreign goods etc. And, interestingly he is in a foreign company i.e. working in a Japan based General Insurance company. Insurance companies are the place where people deposit their money for their odd days. These companies are dealing with public money. So, we can call them the financial institutes. It is falling under the Karakatwa of Venus. Venus here played the role. One more interesting point is the second sign from Saturn is a Marsian sign.  The native is interested in construction business also side by side. Construction comes under the Karakatwa of Mars.
Ex-3 : Mr. Krishna Shyamal
D.O.B.: 01-04-1975
T.O.B. : 1.24 a.m., at 22°18'N, 87°54' E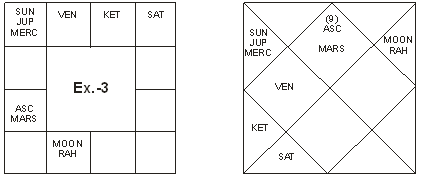 Planetary longitudes :
ASC – 9s00°22'                 MERC – 11s00°01'            SAT – 3s18°48'
SUN – 11s16°57'               JUP – 10s14°07'                RAH – 7s10°19'
MOON – 7s15°18'             VEN – 0s20°52'                KET – 1s10°19'
MARS – 9s28°08'
This native has struggled a lot to establish himself. Here, in this chart no planet is either placed with Saturn nor aspecting the Saturn, the planet of Karma. In this case the planet/planets posited in the 2nd house from Saturn, the nature of the sign, the aspect/aspects thereof will decide the type and nature of Karma. Saturn is posited here in Mithuna, a Mercurian sign, the planet of business and communication. Cancer is the 2nd house from the Saturn. Mars, Sun, Jupiter, Mercury, Moon and Rahu all are aspecting the sign Cancer (5th & 9th, the Naadi aspect). The native is a dealer and supplier of spice foods like pizza, hot dogs, rolls etc. Jupiter, Mercury and Moon denote food items whereas Rahu and Mars both are indicative of spicy items. So, he is dealing in spicy food items. One more interesting point is as a dealer and supplier he has to move or travel from one place to another. He is the dealer for a whole district in West Bengal or we can say that he is in-charge of the business of that particular district. So, he is traveling a lot though short journeys only. Moon and the sign Cancer both indicate travel. It is the part of his business.
Ex-4 : Mr. Arun Shankar Roy
D.O.B.: 29-11-1948
T.O.B.: 6:30 A.M. (I.S.T.)
At 23N15, 87E52
This native is a B.E. (Electrical). He has done P.G.D.B.M. and Fellowship when was 50. in the first life he worked in D.S.P. (Durgapur Steel Plant), took V.R.S from company, started studying and now lecturer / professor in a private management college, selected and got the invitation from different colleges to take the post of principal. Let's have a look on his chart.
Planetary longitudes :
ASC – 7s18°45'                 MARS – 8s08°29'              VEN – 6s10°32'
SUN – 7s13°35'                 MERC – 7s05°56'              SAT – 4s12°46'
MOON – 6s21°19'             JUP – 8s9°47'                    RAH – 0s10°02'
                                                                                         KET – 6s10°02'
Saturn is linked here with the Mars, Jupiter and Rahu. Mars indicates Engineering, Aspected by rahu = Electrical Engineering. Jupiter indicates job or service. In his first life he was in service. Rahu indicates low paid or dissatisfaction. He took V.R.S. from his job. Jupiter + Mars indicate management type. He has done P.G.D.B.M. Interesting point here is the second sign from the Saturn is Kanya, a business oriented sign. And, he is in a private college now as a professor. Jupiter is the Guru, a teacher, a guide etc. so he adopted the same profession. As the sign Kanya falls on the 2nd sign from Saturn, a business oriented sign, he wants to start or establish his own management school. And it should be a private school, means some sorts of business it is or business type of mentality it is.
Ex.- 5 : Mr. Manoranjan Mishra
D.O.B.: 17-08-1967
P.O.B.: Puri (Odisha)
At 4:35 A.M. (I.S.T.)
This native has done M.B.A. in sales and Marketing and working as a Regional Manager (R.M) of Eastern Region of a company. He started his career as a manager in M.N.C. He used to change the company frequently. But most of them are in M.N.C. Apart from the service he is doing business side by side. Now, have a look  on his chart.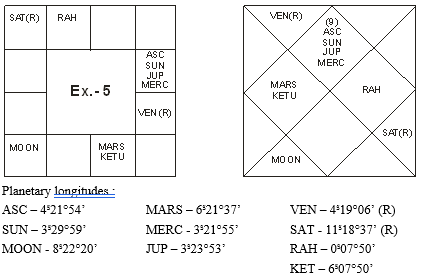 Mark here, Saturn is retrograde here. Firstly, it is making link with Sun, Jupiter and Mercury by 5th & 9th from them. As per the rules of naadi when a planet is retrograde is used to give the results of the previous house. On the basis of this rule Saturn is in Meena and will give the results of the Rasi Kumbha or the Aquarius when it will come to Aquarius it will make link with the Mars & Ketu by 5th and 9th placement and with Venus by same 7th. Venus- Mars gives management. He is a manager. Ketu gives hindrances or detachment. Frequently, he uses to change the company. This is just the one part. When we count from Saturn in Meena, the cancer is the 5th Rasi. Jupiter, Merc and Sun is place there. Jupiter and Sun indicate service. He is in service but not in Govt. job. Interestingly, there is a planetary shift or an exchange between Jupiter and Moon. So Moon will come into play when she will come in Cancer. So, job not Govt. but in private. For this shift he has established himself far away from his birthplace i.e. in Kolkata, 500 – 600 kms. Away from his own house. He has fisheries, Moon indicates water, and Mercury is business. So business connected to watery product. Fisheries cannot run without water.
Ex – 6 :
Dr. B.V. Raman, a veteran scholar well known to every one and needs no introduction.
D.O.B. – Agust  8, 1912 A.D.
T.O.B. – 7:42 p.m. (I.S.T.)
P.O.B.: Bangalore, 12N59,  77E35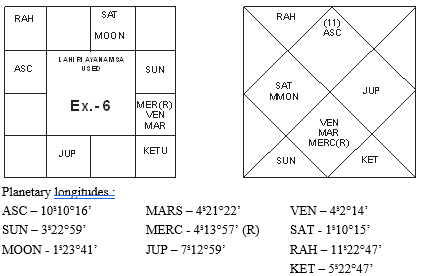 The Moon, the Karaka of mind is exaltated here and with Saturn placed ina  Venusian sign getting the aspect of Jupiter. Jupiter is the guru. Venus is also the guru. He was a guru. He was not only a teacher but also an institution. Mark the Ketu's placement. Ketu is a mystic planet which gives 'Gupt Gyan' i.e. secret knowledge, occult power etc. he was endowed with enough occult power, wrote dozen of Astrological books, introduced a magazine through which he taught Astrology to so many people. His Mercury, the rasi Lord of Ketu is retrograde, Mercury termed as the planet of intellect and when he became retro gave the result of being placed in cancer where Sun is placed. Jupiter is placed in the 5th house from Cancer, so it is linked with Jupiter- Moon for traveling. He traveled intensely Europe, America etc. to promote Indian Astrology over there. Second house from the Saturn is Mithuna, the owner is Mercury. It also indicates communication. He was having good contact with the foreigners and through out India. Jupiter is aspecting Saturn from the 7th. So, he got the job under British realm. But refused to do so. He was born to spread the divine knowledge, Astrology through out the world. Saturn and Moon+Ketu with the 7th aspect of Jupiter shows this or confirms the above facts.
Learn Astrology: Join Our Upcoming Astrology Classes – Click Here
Learn Astrology: Join Our Recorded Astrology Classes – Click Here