Manasagri quotes Saptamsha for marriage timing and if I remember well KNRao has mentioned it in his book 'Nehru Dynasty'
Saptamsha is the 7th division & 7H in D1 is marriage, so logically 7th divisional chart should be used for marriage.
Case 1: B.F (Ref code: Senior Jyotish Guru USA)
Dasa: Mars/Mer/Jup (Pd starts on 24th May 93 at 13:10, pls check with him exact time of marriage)
MD: Mars is LL of D1 with 7L & also 7L of D7 & is the AK (significant for marriage) placed in the 10H of Karma from 7H of marriage in D1 & D7 making it most suitable to give marriage.
AD: Mer (PK-love) joins Mars in D1 & in D7 it is 2L of family & 5L of Love (he said it was love marriage) placed in 11H getting good neechabhanga by Jup & also aspecting 5H for gain of marriage
PD: Jup is DK & aspects with 7H in D7 with exalted rays, if the time of marriage was before 13:10 it would be Rahu PD and that also explains it easily.
Case 2: 38th US President, Time accuracy  AA Lois Rodden Ratings.
Marriage Date: 15th Oct 1948
Dasa: Ven/Sun/rahu
MD:Ven the MD is in 7H of marriage being the karma lord
AD: Sun the AK, is the LL in the 5H of love & gain of marriage in D7
PD: Rahu is the 7L in 2H of family so addition in family.
Case 3: Amitabh Bachchan (bollywood superstar)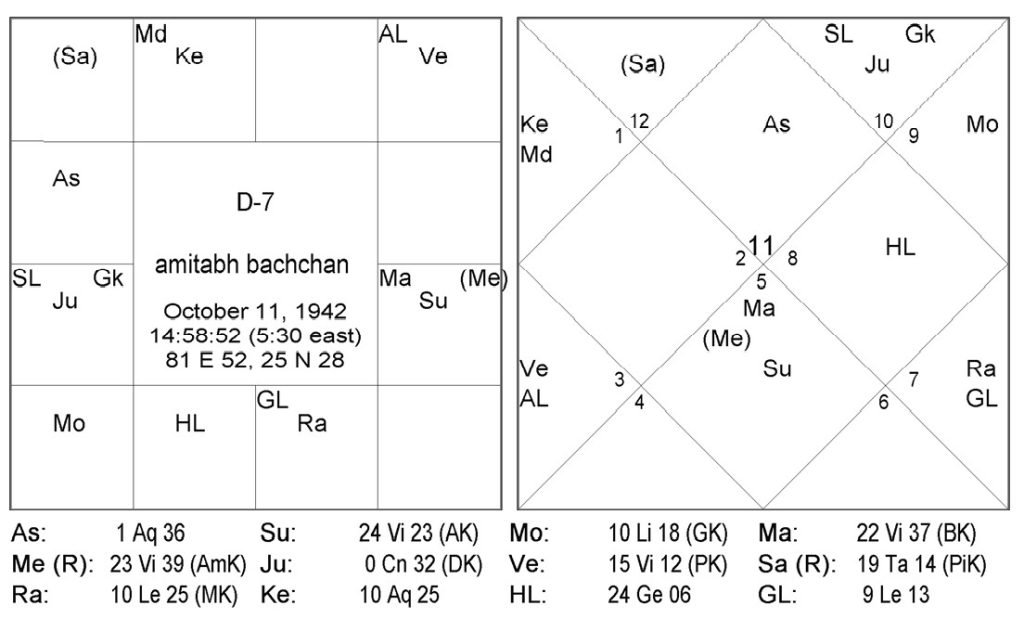 Marriage Date: 3rd June 1973
Dasa: Sat/Sat/Ven
MD & AD: Sat is Pik (9H matters of religious institution) & is the LL of D1 cum LL of D7 in 2H of family so there was addition in family by way of marriage. There is exchange of 12L & 2L Jup who is DK (spouse)
PD: Ven is the PK (his was love marriage) in 5H of love being 9L of D1 & D7 indicating religious ceremony during Ven periods. Additionally Ven is the dispositor of Rahu & A5 & also aspected by it showing unconventional marriage. Further by Bhrigu method Sat® will also act from 1H aspecting 7H of marriage in D7 strengthening its capability to give marriage and is again aspected by Rahu who is with GL, this marriage will in time to give him fame (GL is involved) in his life which is what happened.
Case 4: JFK Sr
Marriage Date: 12th Sept 1953
Dasa: Rahu/Mer/Jup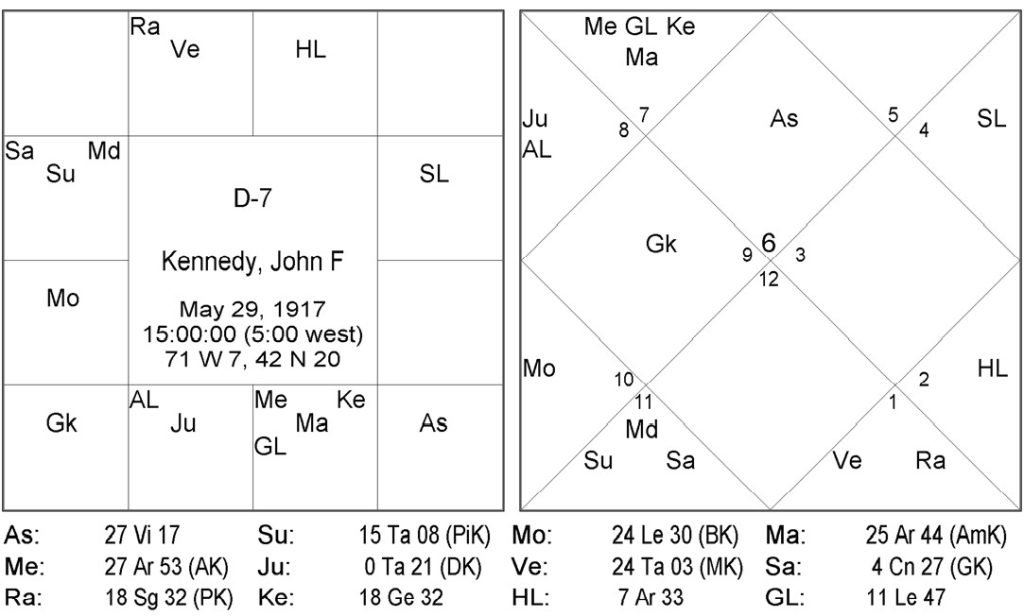 MD: Rahu (PK) is 7H in D1 being LL & in D7 Rahu is in 8H with Ven the 2L of family & 9L of religious institution (marriage is a religious institution) aspecting LL Mer
AD: Mer (AK- again AK comes here) is LL of D1 & D7 placed in the 2H of family along with dispositor of 7L making it fairly strong to deliver & also gets sanction to deliver by MD rahu.
PD: Jup the DK (spouse) is 7L of D1 in 9H of Institution & in D7 is the 7L aspecting the 7H cum own sign giving marriage. As Jup is with AL aspecting HL & SL, this marriage will bring in rise in image & money cum Power (dispositor with GL) in time to come, scribe thinks that is what must have happened in his life, but in Navamsa this Jup is deb so this marriage will not survive long or would be not a fair marriage.
Case 5:S.P (chandu grandson)
This is case of a twin and within 10 mins the next twin is born so the D7 will change, the younger twin is still not married
Event Date: 11th May 06 the first twin got married
Dasa :Sat/Ven/Moon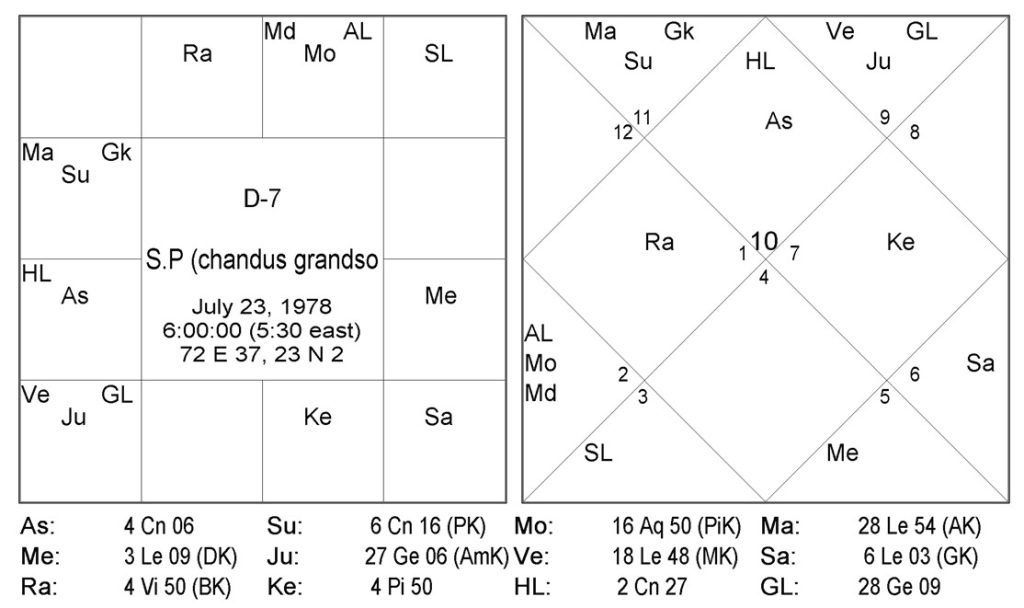 MD: Saturn is 7L in 2H of family in D1 & in D1 it is LL in 9H of religious function trining with 7L Moon
AD: Ven is in 2H of family in D1 & in D1 it is 5L of love with Amk Jup, his was love marriage
PD: Moon is LL with A5 in D1 aspecting 2H & in D7 it is 7L in 5H of love a clear indication of love marriage.
Moon is with AL and he married into a very rich family giving great Improvement in status (AL) to his father esp to his grandfather (Moon is in 5H of grandfather). Here the 5L Ven (also AD) has gone with Swagrahi Jup who is Amk(career) in 12H of investments. See before marriage he was unemployed for 5 yrs and immediately after marriage in 3 months he got job (Jup is amk) in investment firm (12H).
Learn Astrology: Join Our Upcoming Astrology Classes – Click Here
Learn Astrology: Join Our Recorded Astrology Classes – Click Here