Case Study 6: Regarding 3rd House
Mr R Shah
Birth Dt. 17-01-1960
Birth Time 16-07
Birth Place Ahmedabad
| | |
| --- | --- |
| Planets | Sign – Degree-Minutes-Seconds |
| Lagna | 2-5-11-41 |
| Sun | 9-3-1-47 |
| Moon | 4-12-15-30 |
| Mars | 8-9-5-35 |
| Mercury | 8-27-9-33 |
| Jupiter | 7-28-56-18 |
| Venus | 7-24-50-49 |
| Saturn | 8-18-5-8 |
| Rahu | 5-4-33-19 |
| Ketu | 11-4-33-19 |
Above birth chart was discussed on 19-07-09.
As discussed earlier 3rd house starts from 27-04-09 and ends on 22-04-10.
Moon – the lord of the second house is in the 3rd house, second house represents own family and money. In Chalit chart moon is in the 4th house.
3rd house represents own brothers and sisters, 4th house represents properties of heir. Working of moon is in the 7th house.
Sun the lord of the 3rd house is in the 8th house. 8th house represents uncertain gains. Vehicle and inherited property. Working of the Sun in the 9th house. 9th house represents the house and long journey.
In 9th house there is KUMBH sign. So his own or rented house may be on the slope or at a height. Or own/rented flat may be above ground floor.
Mercury, lord of the 1st and 4th house is in 7th house. In Chalit it goes to 8th house. Working of Mercury is in 1st house. From the above planet position, the prediction was given.
Mr R. will get uncertain gain from inherited properties
He may purchase his own house or he may lives in the rented house.
He may purchase his own vehicle.
He may travel long journeys.
His own house or rented house may be on the slope or at the height.
His own flat may be above the ground floor.
The results predicted were as per mentioned under after 27-04-09.
All six brothers (3rd house) live in one inherited property (4th house) in joint family.
They decided to sell above property and sold it.
Mr R received 6th part of the capital generated from selling above property (uncertain gain – 8th house)
After that he lives in a rented flat which is on the 6th floor (in 9th house KUMBH sign)
He decided to purchase his own house and vehicle in short period of time (9th and 8th house)
Case study 7 : regarding 10th house
Mr H Shah
Birth Dt. 14-11-1976
Birth Time 19-30
Birth Place Khambhat – Gujarat
| | |
| --- | --- |
| Planets | Sign – Degree-Minutes-Seconds |
| Lagna | 1-24-3-12 |
| Sun | 6-28-47-43 |
| Moon | 3-24-26-34 |
| Mars | 7-1-54-30 |
| Mercury | 7-2-59-48 |
| Jupiter | 1-3-15-39 |
| Venus | 8-6-37-58 |
| Saturn | 6-8-51-15 |
| Rahu | 6-8-51-15 |
| Harsh | 6-14-52-20 |
| Nep | 7-19-22-24 |
| Plu | 5-19-24-24 |
|   |   |
As discussed earlier 10th hose starts from 22-05-09 and ends 17-05-10
A person can go to foreign country if in the birth chart lords of the 2nd and 12th house are related to each other. 2nd represents money and 12th house represents foreign country. So when lords of 2nd and 12th house are related a person will get money from foreign countries.
In this birth chart lord of the 2nd house is Mercury and lord of 12th house is mars. Both mercury and mars are in the 7th house. So he will go to abroad and will get money.
Now 7th house represents life partner / spouse. Mars is in its own house. Thus Mars is lord of 7th and 12th house. So marriage is delayed. Mr H's marriage will be either with women who lives in foreign or after marriage he will go to foreign. In Chalit both mercury and mars goes to 6th house. 6th house represents Maternal family. So His maternal uncle is in London. Because of his uncle he will go to foreign.
Lord of 9th and 10th house Saturn is in the 3rd house with moon, the lord of 3rd house itself. Working of both moon and Saturn is in the 12th house. 12th house represents foreign country. Mr H went to London on 13-07-09. His maternal uncle called him to London. That is his maternal uncle helped him to go to London and took all responsibilities for this purpose.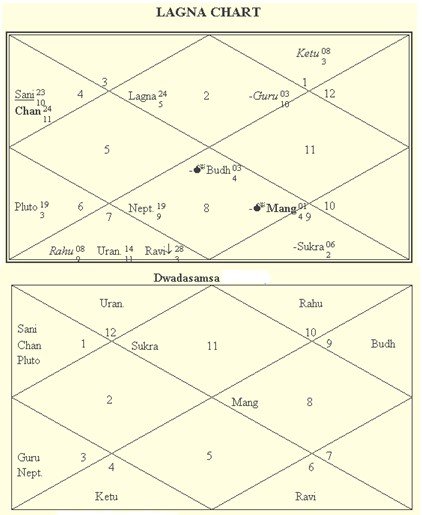 Case 8: Regarding 9th house
Mr K Pancholi
4/5-09-42
Ahmedabad
As discussed earlier as per calculation we can find out that year of 8th house will start from 19-09-08 and year of 9th house will start from 14-09-09.
9th house represents own house. The lord of 9th house Jupiter is in 12th house. In 12th house there is Mithun sign. So his house will be on the road side or near the cross roads. In Chalit Jupiter goes to 1st house. In 1st house KARK sign which shows water. So his house will be of 3 to 4 rooms near to water and near to cross roads. Also near to open ground between 14-09-09 to 09-09-10. so when he decided to purchase the flat, above conditions will be fulfilled.
Just now, he lived in a tenement which is of 3 floors. It is near to cross roads, it is on the roadside of the society. This tenement has 3 open sides and an open chowk as shown in the figure.
Learn Astrology: Join Our Upcoming Astrology Classes — Click Here 
Learn Astrology: Join Our Recorded Astrology Classes — Click Here