These lines are not from any ancient books but it is considered as a maha mantra, given to us through a native considered by many as the third incarnation of Lord Datta. He is known as Tembye Swami Maharaj  though his full name is Shreemad Paramhansa Parivrajakacharya Shree Vasudevanand Saraswati Swami Maharaj.
Swami Maharaj is known as "Yogiraj Avatar (incarnation)" of lord Datta. He was a great saint and ascetic who revived the ancient Dattatreya tradition and embodied in his short life the ideals of Brahmacharyashram, Grihasthashram and Sanyasashram. Today Tembe Maharaj is a household name among the Maharashtrian population of India.
Note :
[1] Considered Guru of All in Indian scriptures, the trinity form of Shiva, Vishnu & Brahma combined.[2] He was fondly referred to as Swami Maharaj[3] Samadhi has various meanings, it is also the Hindi word for a structure commemorating the dead (similar to a mausoleum), which may or may not contain the body of the deceased. Samadhis are often built in this way to honour people regarded as saints or gurus in Hindu religious traditions wherein such souls are said to have passed into (or were already in) samadhi at the time of death.
[4] Tribal villager[5] Seva is generally referred to as doing service in the name of God[6] This author has very recently been able to procure a copy of it in March 2008, whereas this article was written in Nov 2007.[7] Decode does not mean unable to apply normal rules of astrology but going into several layers of a chart, where predictions just cannot fail. Such methods are not known to us today and it is believed Swamiji was guided by Divine Forces to specially decode.[8] This term is used to define a Spirit belonging to man who in previous life was a Great Master of Vedas, Scriptures & Astrology but due to some sin got transformed into a spirit.[9]A separate form of predictive methodology not common today in india.[10] Tradition[11]Monkhood[12]Monk[13]Eating food gotten out of begging for it.[14]People who take to the bath of Monkhood in India are not supposed to stay for more than 2 days at a place as it would create bondage and Monkhood is about non-bondage.
Swami Maharaj played a major & critical role for spreading correct Lord Datta Upasana (rituals) all over India. The story goes like this when Tembe Swami expired & his Samadhi was being built there was an Adivasi villager who was helping build it without knowing for whom this temple is, while working he got hurt badly in the leg, due to which he could not go to his daily job that gave him bread & butter. After that, it seems a man appeared in front of him & applied medicine on his leg. After the temple was built, the villager saw the picture of the dead man for whom the temple was built and was shocked that the man who applied medicine to him was the same saint for whom the temple was being built. Which means Swami
Maharaj had come back from spirit world to attend to this villagers wounds.
 Birth
He was born (A.D 1854) in the village of Mangaon near Savantwadi, Maharashtra in a traditional Brahmin family. His parents were true & sincere devotees of Lord Dattatreya, though very poor by wealth but highly satisfied & blessed by performing Lord Datta Seva (service)
Education
Swami Maharaj started his school education at the age of 3 in a temple in the village. He had to learn writing with his fingers as pencil & notebook as layers of dust, which was very tiring and a painful mode of education. During this period, he also studied some astrology and Sanskrit poetry from Shri Sadhale Shastri. In earlier days of his life, he was well known as a proficient astrologer among the nearby villages.
For amateur astrologers he had written many books on astrology, one on astrology is known as 'PanchPakshik'. As this article was being discussed among friends scribe said none of us have seen Swamiji's work on astrology, then one spiritual aspirant Shri Narhari said he has traced a village where this book is kept and will try to procure it for us. Let's see if it comes to us then it will be nothing short of miracle. Swamiji has completed 19 books in total including the famous Gurucharitra.
 Mantrashakti – Power of Ones Mantras
Swami Maharaj's dedicated practices and devotion for the rituals & his holy lifestyle soon led him to acquire mantrasiddhi i.e., supernatural powers operating through Vedic mantras. Following are some of the known experiences & it is tough to quote just a few when there are so many of his miraculous powers.
1) Once while travelling through a jungle he came across a snake in his way, without hurting that snake he just applied a Vedic mantra & sprinkled dust around the snake. Instantly the snake was arrested in that boundary created out of dust for one full day. The next afternoon Maharaj suddenly remembered that the snake was still arrested and went at that spot along with his friend. To his horror, the snake was lying restless in that circle apparently totally exhausted after unsuccessful attempts of breaking through the circle. With a huge kindness Maharaj reverted his mantra to release that snake & never ever used that mantra again in his life. The best part of the story comes now, when he went back home he was so upset with himself that he stood still in that position for one full day in order to punish himself as he had caused hurt to a living being. His beloved & dutiful wife without knowing why her husband was standing still, stood behind him for one full day. This shows the simplicity & kindness both husband & wife possessed something absolutely rare today.
2) He had a peculiar habit while seeing horoscopes, when he would be guided that nothing is to be told to the consulter, he would just keep it reverse or even when he was unable to Decode the chart he would reverse it. Once a man's chart was drawn by him, he saw it and reversed it as he was unable to decode it even though the man was suffering through innumerable troubles. Then in the body of the man a BrahmaSamand got in & spoke to change the co-ordinates of the place of birth, Swamiji immediately constructed the new chart & there the chart opened out revealing everything. BrahmaSamand's appearing to guide him & also to learn astrology from him was a common feature as seen by his devotees. The list of his miracles in astrology as well of mantrashakti are limitless.
Lord Datta Incarnate
The most authentic firsthand account of Shri Maharaj being Lord Dattatreya incarnate comes from one of his major disciples Yogiraj Shri Gulavani Maharaj. In the month of June, Shri Vaman Rao Gulavani, then 23 years of age, had come to Ganagapur (pilgrimage spot) to complete seven Saptahas (seven day recital) of Shri Gurucharitra after having completed seven at Wadi (another pilgrimage spot). After the sixth Saptah, a Ramal astrologer predicted that if he did not meet his Master (Lord Dattatreya) within the next six months, he would never meet him in his life. Shocked by this prediction, Shri Vaman Rao was stricken by an irresistible urge to meet his Master, Lord Dattatreya. Completing the seventh and final reading in one day and giving away his umbrella to the priest towards the expenses of the closing ritual (samapti) of the Saptahas, he set out on foot to seek out Shri Maharaj (Tembe Swami). His two-month pedestrian search for Shri Maharaj, with practically no money, in the hot summer over a dry, dusty terrain, is in itself a saga of indomitable perseverance and penance, which was rewarded not only by his meeting his dear, revered Master but also by a ten-day stay in his august and holy company. During this period, he was blessed by exclusive discourses by Shri Maharaj on the entire 18-chapter Bhagvad Gita; Santha of Shri Vishnu Sahasra Naam from Shri Maharaj; instructions on yogic Pranayam and Ajapa Jap; and the continuous grace flowing from Shri Maharaj.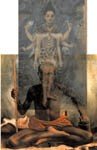 After ten days of this blissful sojourn, Shri Vaman Rao had to leave as the first anniversary of his father's death was approaching. Starting early, he went to the bath in Tungbhadra river in the sacred company of Shri Maharaj who bathed Vaman Rao with his hands. They went to Madhukari together and at lunch Shri Maharaj served a portion from his plate to Vaman Rao as Prasad. As the time of departure, neared Vaman Rao could not control his grief at the prospect of separation from Shri Maharaj. Finally, the moment of parting came. Shri Maharaj was sitting in his customary Siddha position, with a coconut, sacred ashes and prasad by his side, on a small platform. Shri Vaman Rao prostrated before him. Shri Maharaj blessed him with customary "Narayan" and gave the prasad, coconut and sacred ashes asking him to take care. Shri Vaman Rao, with tear-stained face and a heavy voice asked, "When shall I see you again, Master?" Shri Maharaj, with an upward shake of his head pointed to himself and said, "Remember this as it is, that is all!"
At this moment, the physical form of Shri Maharaj appeared to become transparent and Shri Vaman Rao saw the figure of Lord Dattatreya clad in tiger-skin, with His feet at the heart of Shri Maharaj, smiling benevolently at him. Shri Vaman Rao prostrated again and as he got up, he saw the usual form of Shri Maharaj asking him hurry up so as not to miss the train. Shri Vaman Rao, luckily for us, was an accomplished painter and not only memorized the enchanting image of the Lord but also reproduced it in an exquisite miniature.. This picture is in the sanctorum of Shri Vasudeo Nivas.
Life
At the age of 21 Maharaj got married with Annapurnabai. He did not have a smooth married life as his wife & mother were never compatible with each other. Swami Maharaj used to be quite & calm, obedient to his mother in fiery situations at home. Swami Maharaj built a Lord Dattatreya temple with his own hand in the village. This temple is still present in Mangaon village & is supposed to be miraculous in fulfilling various desires of devotees. After completion of temple, it is said that Lord Datta ordered Maharaj to leave the native place. He left Mangaon with his pregnant wife and arrived at Narasobawadi (One of the main places of Lord Datta Sampradaya near Kollhapur, in Maharashtra.) His wife delivered, but a dead child. In 1891, his wife died due to illness at Gangakhed village, Maharaj was still calm & quite. Just on, completion of 14th day ritual of his wife's death, it is said that he was immediately initiated to Sanyas by Lord Datta.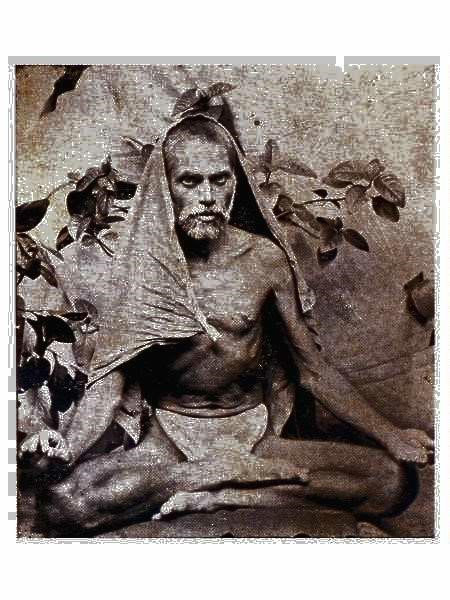 Hard Sanyas Life
Swami Maharaj lived strict, disciplined & a hard sanyast life. He used to take Bhiksha only from Dakshini Bramhins one time in a day. After collection of food, he used to wash that food in river for making food tasteless, and then he used to divide that food into 3 parts one for cow, one for river & one for himself. He walked across entire India for helping, guiding innocent, needy people as per the lord Datta`s orders. Once he fasted for 33 days without food due to non-availability of Bhiksha. He was having lifetime dysentery problem.
The way Swami Maharaj lived his sanyast life, it is impossible for a common man to imagine. It is said that on every wrong acts by him, he used to get punished badly by Lord Datta. It is said that on a certain wrong act he was slapped such badly by lord Dutta such that his one ear was damaged for life time. Maharaj used to have only 2-3 hrs sleep throughout the entire day. During his Himalaya visit, he neither used any warm clothes nor used fire to keep himself warm. He used 'Suryabhedi Pranayam' (yogic exercise) to fight against cold, this was his strong yogic power. Throughout his entire life, he had only two sets of clothes.
Maharaj never used to argue or debate with anyone but was very strict against those who were undisciplined (those who never used to follow religious rituals as specified by shastras). At the same time, he was so generous & kind that he gave a good spiritual experience to a prostitute who used to just listen to his discourses in Chaturmas (2 months stay at one place in rainy season for sanyasis). Swami Maharaj never ever touched money in his entire sanyast life. He always used to call money as 'dirt' that can spoil one's life.
He travelled entire India on bare feet. He suffered a lot by fever, regular vomiting, obsessive dysentery, worst disorders like plague, but he never wanted any medication on it, He considered & accepted all sufferings, sorrows as Lord Dattatreya's wish. Maharaj was victim of intense black magic but never defended it inspite of having capability to revert it. As it is said, a saint never resorts to remedies and accepts everything as the wish of God.
Simplicity
Swami Maharaj, once received dates (khajur) as prasad (Gods offerings). His love towards GOD was so simple & pure that he didn't spit the seed of fruit; rather he kept it inside his mouth till it got totally dissolved naturally. It took around 30 days for it to get dissolved completely.
When asked why he did such a thing, which no one does, he summarized it saying 'GOD's prasad is so divine that one should not even waste a single part of it.'
Literary work
Swami Maharaj's life was fully dedicated to Lord Datta seva & Upasana. His guidance is still present today by his huge literary work & millions of devotees are taking experience of it even today. He had hand written a holy book for a common man. This book mainly covers the solutions (holy chantings, mantras) for the day to day problems faced by common man. One of the example of his kindness & generous nature is that he used to distribute handwritten copies of his literature (pages around 400-500) for needy persons & never used to charge them. His command on mantra, ved, Upanishad was so powerful that many of his ritual literature consists of various mantras which are trickily embedded within it. It is also known as "Mantragarbha Literature"
Above written information about him is like water drop in huge ocean.
Swami Maharaj the 3rd Incarnation of Lord Datta left his body like an ideal yogi in 1914 . As he came to know his work is over on this earth, he sat in Siddhasan (yogic sitting position), chanted OM thrice & left his body at Garudeshwar, in Gujarat state. Even after 90 years after his death, his powerful ritual literary work is still working wonders of the spreading magic of Lord Datta bhakti & giving high-end spiritual experiences, fulfilling desires of common man.
Swami Maharaj is & always will be a milestone in Lord Datta Tradition.
Learn Astrology: Join Our Upcoming Astrology Classes — Click Here 
Learn Astrology: Join Our Recorded Astrology Classes — Click Here